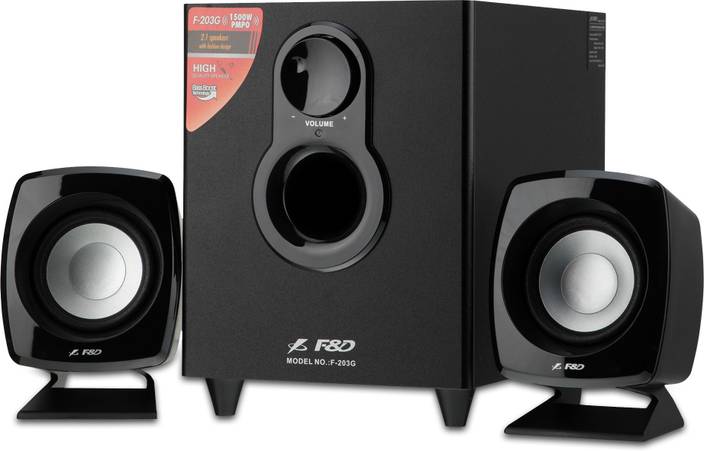 Features
Sales Package: 1 Subwoofer, 2 Satellite Speakers
Model Name: F-203G
Type: Laptop/Desktop Speaker
Portable: Yes
Bluetooth: No
Memory Card Slot: No
Configuration: 2.1
Power Source: P/W Adapter
Power Output (RMS): 11 W
Frequency Response: 20 - 160 Hz
Color: Black
Wired/Wireless: Wired
Subwoofer: 1
Headphone Jack: Yes
Configuration: 2.1 Channel
Compatible Devices: TV, PC, DVD Player, MP3 Player
Signal to Noise Ratio: 65 dB
Maximum Output RMS Per Satellite: 2 W
Maximum Output RMS Subwoofer: 7 W
Other Audio Features: Distortion-free Sound
Chassis Material: Wood Chassis
Controls: Volume Control, Bass Control
Driver Size: 2.5 inch (Subwoofer), 4 inch (Satelite)
Other Features: Total Weight: 2.5 Kg, Dual RCA Port, Built-in OCL Amplifier, Compatible with PC, VCD, CD, LD, Walkman, Discman and TV etc, LED Power Indicator, 2.5 inch Full Range Driver for Satellite, 4 inch Bass Driver for Subwoofer, Wooden Chassis
Subwoofer Width: 15 cm
Subwoofer Height: 18 cm
Subwoofer Depth: 20 cm
Satellite Width: 8 cm
Satellite Height: 11 cm
Satellite Depth: 7.5 cm
Warranty Service Type: If There is Any Technical Issue with the Products Kindly Contact the Service Center of the Concerned Brands
Warranty Summary: 1 Year Domestic Warrantyages.
Covered in Warranty: If a defect arises and a valid claim is received during the Warranty Period, F&D will at its sole option, service the Product at no charge using new or refurbished replacement parts at our sole discretion.
Description
Get into the higher league of home entertainment experience with this 2.1 speaker system that is designed for those who like their music loud at a PMPO of 1500 watts.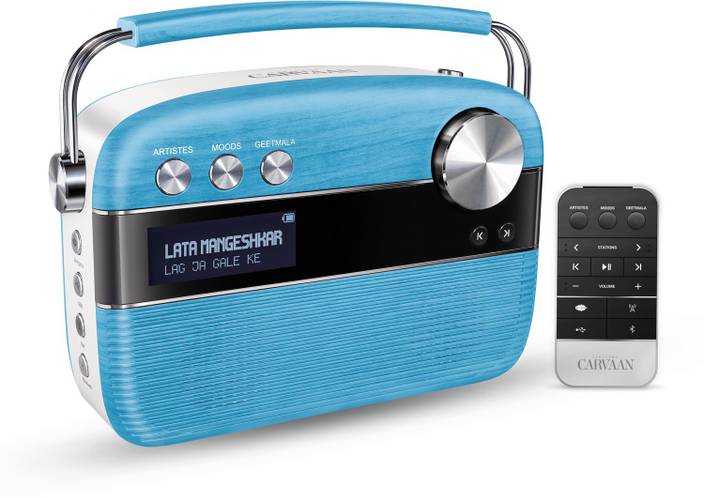 Saregama Carvaan 6 W Bluetooth Home Audio Speaker, Saregama
Features
Sales Package: 1 Remote Control, 1 Adaptor, 1 Micro USB Cable
Model Name: Carvaan
Type: Home Audio Speaker
Bluetooth: Yes
Memory Card Slot: No
Configuration: Stereo
Power Source: Battery, AC Adapter
Power Output (RMS): 6 W
Frequency Response: 200-10000 Hz
Impedance: 4 Ohms
Color: Blue
Wired/Wireless: Wireless
Wall Mountable Satellite: No
Built-in Fm Radio: Yes
Outdoor Usage: Yes
Headphone Jack: Yes
Configuration: Stereo Channel
Memory Card Supported: USB
Display Type: LCD Display
Charging Time: 4 hr
Battery: Rechargeable Li-Ion
Battery Capacity: 2200 mAh
Bluetooth: 4.1+EDR withAVRCP, A2DP, HFP
Amplifier: Yes, Built-in
Distortion: 0.25 % at 1 W
Chassis Material: Yes, ABS Plastic Chassis
Controls: Volume, Previous, Next, Mode Buttons, Knob Dial
Remote Control Support: Yes, Wireless
Power Input: 230 V AC, 50 Hz, 6 W
Cable Length: 1.2 m
Width: 27 cm
Height: 17 cm
Depth: 8 cm
Warranty Service Type: Carry in at locations where service centres are not present and Home service at locations where service centers are present
Warranty Summary: 1 Year in-home warranty support (Domestic)
Covered in Warranty: Warranty of the product is limited to manufacturing defects only
Not Covered in Warranty: Warranty does not cover plastics parts, charger, remote or damage caused to the product due to improper installation by customer, normal wear and tear, display panel, damages caused to the product by accident, lightening, ingress of water, fire, dropping or excessive shock, any damage caused due to tampering of the product by an unauthorized agent, liability for loss of data
Domestic Warranty: 1 Year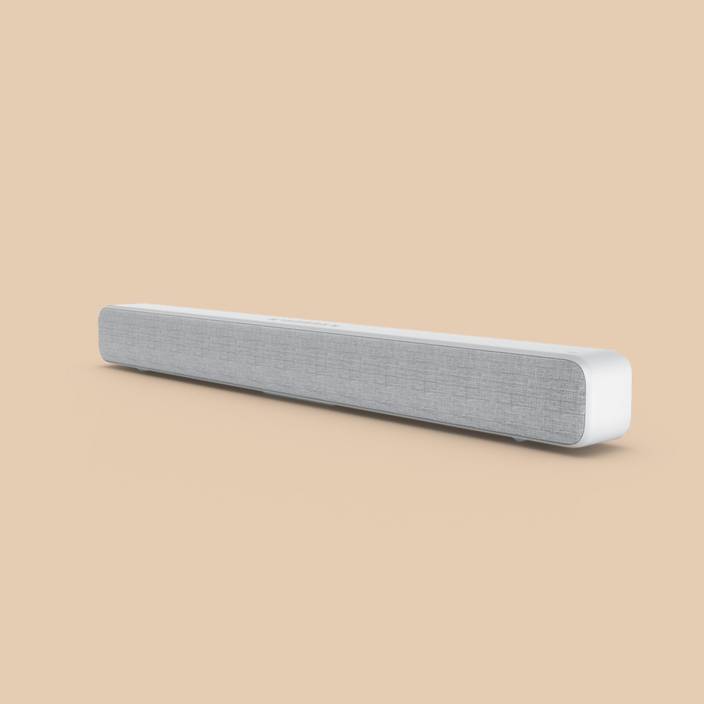 Mi (8 speaker drivers) Bluetooth Soundbar, Mi
Rs. 5,999

Features
Sales Package: 1 Soundbar, Adapter, SPDIF Cable, 2 Screws, 2 Expansion Screws, User Manual
Model Name: MDZ-27-DI
Type: Soundbar
Bluetooth: Yes
Memory Card Slot: No
Configuration: 2.0
Power Source: AC Adapter
Frequency Response: 50 - 25000 Hz
Impedance: 6
Color: White, Grey
Configuration: 2.0 Channel
Width: 83 cm
Height: 8.7 cm
Depth: 7.2 cm
Warranty Service Type: Customer needs to Call to Mi Customer Care number 18001036286 to Register any Complaint on the Product
Warranty Summary: 1 Year Warranty Provided by the Manufacturer from Date of Purchase
Covered in Warranty: Manufacturing Defect
Not Covered in Warranty: Physical Damage
Description
Take entertainment to the next level with this soundbar from Mi. While the 8 Sound Drivers deliver a rich soundscape, the high-speed Bluetooth 4.2 LE feature lets you connect your devices wirelessly. The Dome Tweeters, Passive Radiators and Bass Speakers are designed to give you a captivating...
Check out these related video:
Youtube
F&D F203G Quick Unboxing And Sound Test
From where to purchase? Amazon- ...